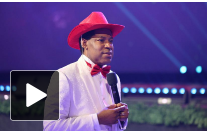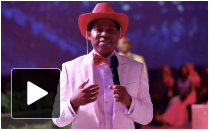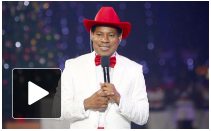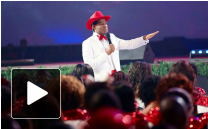 Thousands Around the World Join Pastor Chris to Ring in a Holly Jolly Season of Celebration
Dressed in festive colors of red, green and white, thousands made their way, filled with the joy of the season, into the LoveWorld Convocation Arena and venues around the world to join Pastor Chris for a memorable Christmas Eve Service.
As the choir led the global congregation in carols, everyone was reminded of the Father's love that compelled the birth of His only son. The joy of the yuletide season filled every heart as the scriptures were read, "For unto us a child is born, unto us a son is given: and the government shall be upon his shoulder: and his name shall be called Wonderful, Counseller, The mighty God, The everlasting Father, The Prince of Peace." Through several ministrations from LMAM artistes like Sinach, PeeYuu, Sophiya, Pastor Saki, Obi Shine and others, the brethren were inspired to complete the year in gratitude to God for His kindness.
The BLW President, Rev. (Dr.) Chris Oyakhilome, was welcomed with loud shouts of excitement from the congregation, eager to receive God's Word from his lips. Pastor Chris sang carols with everyone in attendance before delving into a short but powerful exhortation on the subject, 'Who is Jesus?', discussing three vital points about our Lord and Savior.
The man of God revealed through the scriptures that Jesus is 'the Word Incarnate'. Teaching the brethren that a man's word is the expression of His thoughts, will, opinions and ideas, Pastor Chris said, "When it came to God's thoughts and views and opinions and ideas and His will to be personified, the result was the man — Jesus!"
The second point was 'Jesus, the Expression of God's Person'! Pastor Chris explained from Hebrews 1:3 that the Master is vitally the brightness of the Father's glory and the express image of His person. The third and final point on the person of Jesus was that He is 'the Glory of the Father'! "[Jesus] is the perfect personification of the abstract idealism of God," Pastor Chris stated, identifying this as the reason we adore the Lord so much.
Before the night came to an end, spoken word artiste, Sophie, gave a rousing rendition on the person of Jesus. The brethren gleefully greeted one another "Merry Christmas", singing with joy the words of the song, 'Feliz Navidad'! What a glorious celebration it was!